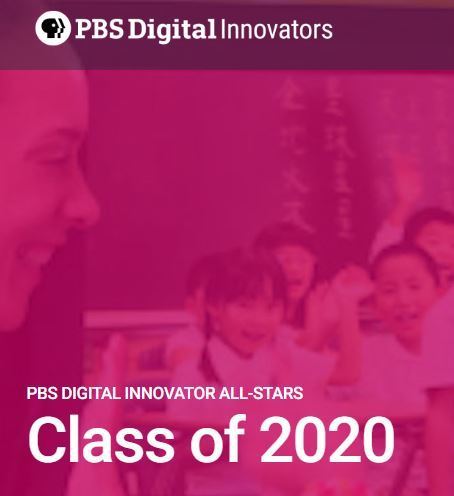 Congrats to Mrs. Carson! Digital Innovator All Star 2020
Jason Brooks
Tuesday, May 05, 2020
Congratulations to our very own STEM teacher Mrs. Carson! She was selected to represent Indiana as the PBS Digital Innovator All Star of 2020!
http://www.pbs.org/education/digitalinnovators/class-of-2020

WFYI ANNOUNCES INDIANAPOLIS TEACHER SELECTED AS PART OF 2020 CLASS OF PBS DIGITAL INNOVATOR ALL-STAR PROGRAM
Alice (Krissy) Carson is recognized by WFYI as leader in the Indianapolis education community
INDIANAPOLIS, IN MAY 5, 2020 – Today, WFYI announced Mrs. Alice (Krissy) Carson from Liberty Park Elementary School as one of 19 educators from across the country for the PBS Digital Innovator All-Star Program.
The PBS Digital Innovator All-Star program brings together a community of PreK-12th grade educators who are innovators and leaders both in and outside of the classroom. Each of the Digital Innovator All-Stars was selected from a cohort of educators who are doing extraordinary work in their local communities, supporting student learning by integrating media and digital technology in their teaching environments, inspiring students to use these tools in responsible, effective and empowering ways.
Carson loves teaching STEM and working to create a positive learning experience for all students. She has been teaching for 27 years and has experience as an elementary school teacher, media specialist, and currently is a STEM teacher for Liberty Park Elementary on Indianapolis's Eastside. She is a former graduate of the Teacher Leadership Academy, a Launch Lead Teacher for Project Lead the Way, and was the pilot teacher for the elementary STEM program in MSD of Warren Township. She strives to create a positive learning experience where she can inspire students to be curious, creative, and innovative, and believes technology is a way for her to provide her students with real time learning, interactive opportunities, and digital resources.
In partnership with WFYI, Mrs. Carson will spend the 2020-2021 school year deepening engagement among students, families, educators, schools and WFYI.
"WFYI has had the pleasure to work with Mrs. Carson as part of our Ready To Learn work, and we are thrilled to be able to continue our partnership during the 2020 PBS Digital Innovator All-Star program," says Carly Weidman, WFYI Community Engagement Manager.